Inverewe Garden
A World-famous Garden in Northwest Scotland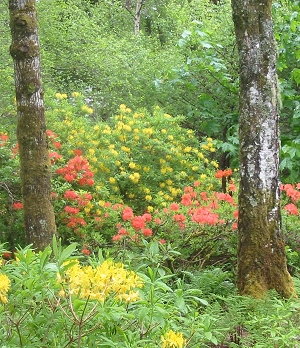 This most famous of Scotland's gardens is situated in North West Scotland amid scenery of great natural beauty.
It is an oasis of greenery and colour, as far north as Labrador in the west and St.Petersberg in the east, it is warmed by the Gulf Sream and able to sustain plants from many temperate regions of the world.
A vegetable,fruit and flower garden was constructed by excavating the glacial raised beach. Soil was imported for this and other areas, to provide a better medium for growth than the native gravel, rock and peat.
By the 1870's the Victorian Gothic house was nearing completion and the garden was reported as "filled with colour under the newly planted hanging woods".
In the shelter from the salt laden gales, now being provided by the woodland, Osgood began to establish a remarkable collection of trees and shrubs from many parts of the world.
Osgood died in 1922 by which time his garden had become internationally acclaimed as one of a number of great plant collections which had been developed along our western coast.
The responsibility for the garden passed to his daughter, Mairi Sawyer who saw it through difficult times in World War II and who added many new features and plants.
She opened the gates of Inverewe to paying visitors and in order to ensure its survival, negotiated with the National Trust for Scotland to transfer ownership to the Trust, so that the garden could be enjoyed by visitors in perpetuity.
The Garden
Most of the structure of the garden is original and the well recorded plantings of Osgood Mackenzie are the backbone of what you see today.
The National Trust for Scotland has made neccessary changes to suit the needs of visitors who come mostly in the summer months. These changes include not only the improvement to pathways but also the planting of much woodland ground cover and summer flowering shrubs and perennials.
There are many different areas within the garden each with a character of its own. Some of the names given to these areas reflect the planting style but the overall effect is harmonious and satisfyingly restful. This, together with the shelter, makes Inverewe a very worthwhile visit in all weathers.
The garden has become increasingly famous and horticulturally important. It is now a major visitor attraction in a remote area of Scotland.
Visiting Inverewe
Inverewe is close to Poolewe in Wester Ross and there are National Trust for Scotland sign-posts on all routes to it.
The gardens are open all year.
There is a self-service restaurant, a visitor centre and a gift shop, all open from early spring to late autumn. A large car park is situated close to the entrance to the garden.
Disabled people can enjoy a large part of the garden by following a special route. 
For further details about visiting Inverewe please go to the National Trust for Scotland website at, NTS - Inverewe.