Gruinard House Garden
Location
Gruinard Garden is in Wester Ross in Northwest Scotland. This is a mountainous area close to the sea but sheltered from the North Atlantic by the Outer Hebrides. The house and garden are at the mouth of the Gruinard river which flows into the sea at a bay of the same name.
The whole area was once part of Mackenzie lands which stretched from the east to west coasts of Ross-shire.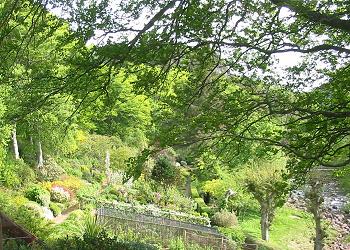 The House
The existing house and Gruinard Estate, became the property of a successful late Victorian industrialist in about the 1890s. He developed the house to its present size and it was used as a sporting and holiday lodge in the Victorian/Edwardian tradition. Today, the house is still owned and enjoyed by the industrialist's descendants.
The Garden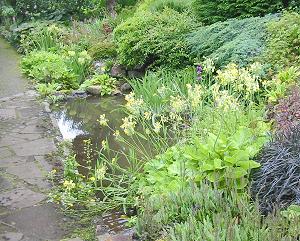 The present garden evolved from a kitchen garden and is hidden from immediate view, thus it presents the visitor with a glorious surprise.
Alongside the Gruinard river on, it's northeast bank, the garden catches the best of the sunshine but is sheltered from the worst of the wind.
The sound of the river, a roar when in spate, a murmur when low, pervades the garden.
The garden is more or less rectangular with a peripheral path and three transverse pathways. An orchard has been retained at one end and there are pergolas with espaliered apples and climbing roses giving height and structure to the garden.In the compartments formed by this structure an enormous variety of interesting shrubs, perennials, fruit and vegetables thrive.These give colour, interest and pleasure to the taste-buds, throughout the year.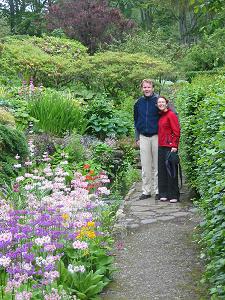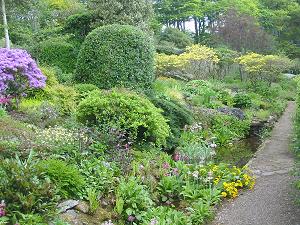 The garden at Gruinard is quite small, its quality is outstanding. This is largely due to the present gardener, a lady who has been there for more than twenty years. Her planting and husbandry have created a garden which beautifully demonstrates these skills.
Visiting Gruinard Garden
The garden at Gruinard House is not generally open to the public. It opens like many other private gardens in Scotland, for charity, on specific dates which are advertised in the Scotland's Gardens booklet.