Dunrobin Castle Garden
Location
Dunrobin castle is on the east coast of the Northern Highlands over-looking the Moray Firth just north of the town of Golspie. It is the family home of the Earls and later, the Dukes of Sutherland, they and their forbears have lived there since the 1300's.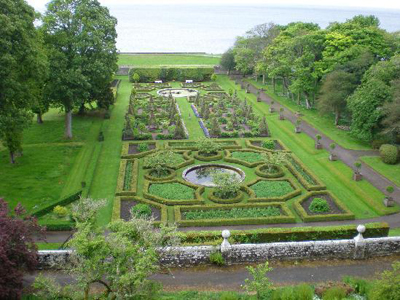 The Castle
The core of the castle dates from the 1300's but the bulk of what the visitor sees was built in the 1800's .
Designed by Sir Charles Barry, who also built The Houses of Parliament. The conical spires and ornamentation give the castle the appearance of a French chateau.
The Garden
The garden was designed and laid out soon after the additions to the house by the same architect. The inspiration for the garden was that of Versailles.
The garden is formal and is divided into two parterres both laid out around circular pools with fountains.
The design is much as Barry left it but there have been recent exciting refurbishments to the planting and ornamentation. This includes avenues of Tuscan laurel and Whitebeam and the construction of wooden pyramid features. The old method of tree culture, pleaching, has also been re-introduced.
A visit to Dunrobin Castle Garden is of interest to all and most particularly for the connoisseur of the formally designed Victorian garden.
Of interest to all is the display of Falconry in the gardens. This should not be missed on a visit to the Castle.
Visiting Dunrobin
The castle and gardens are open to the public from Easter to the middle of October.
Additional attractions are:
A Victorian Museum with a collection of Pictish stones and exhibits covering local history, geology and natural history.
A Gift Shop supplying a wide range of gifts, souvenirs and local craftware.
The Castle Buffet where you can enjoy light meals, snacks and hot & cold refreshments.
The Falconry displays in the gardens
Further information about the castle can be found at the following link: Dunrobin Castle the official web site.